Pest Management In Eldon, MO
Eldon has many highlights worth visiting. It is near the popular Lake of the Ozarks, where you can do anything from boating to fishing, and its waterfront restaurants are some of the best in the area. If you're a golf enthusiast, the Eldon Country Club has both scenic beauty and a challenging layout.
Nature lovers will enjoy Rock Island Park, and the Eldon Community Center is a fantastic place to attend classes or move your body at the fitness center and basketball courts. But with fun activities come an increased risk of pest infestations, as these unwanted guests thrive in areas with abundant food and shelter.
Still, you can always count on Pinnacle Solutions to provide quality pest management in Eldon, MO, for your commercial property.
Commercial Pest Control In Eldon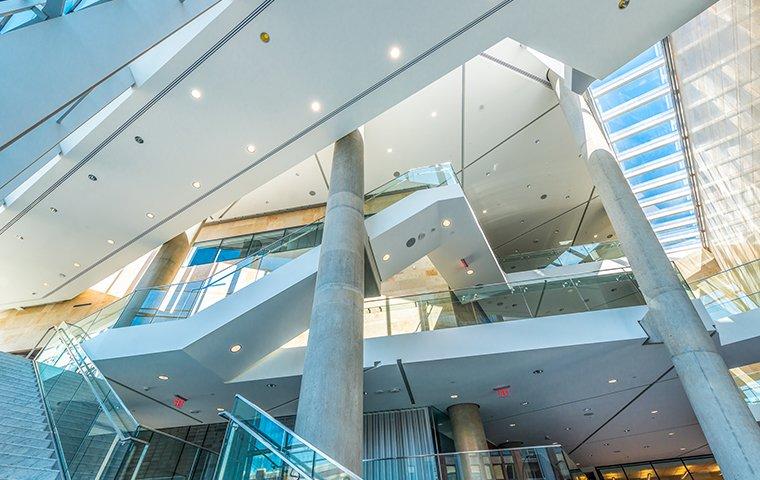 Commercial pest control is of utmost importance in Eldon. It plays a vital role in maintaining the well-being of our community and is essential for a solid reputation.
Here are several reasons why investing in pest control is an excellent long-term strategy:
Health and safety: Scavengers and flies can spread harmful diseases and bacteria. It can be a severe problem in restaurants, hotels, and anywhere pests can contaminate food. Effective pest control measures ensure a safe environment for everyone.
Reputation and customer trust: Because you rely on your reputation and customer trust to thrive, a pest infestation can severely damage your business, ultimately causing financial losses. We can help prevent infestations and foster the trust and loyalty of your clients.
Compliance with regulations: You likely have specific guidelines you need to follow to ensure health and safety. Failure to comply can result in penalties or worse. Our experts can make certain you pass inspections with flying colors.
Property protection: Pests can cause significant harm to equipment and inventory. Termites, for instance, can compromise the structural integrity of your commercial property, leading to costly repairs. We can help safeguard your investments and reduce the risks of damage.
Increased productivity: A pest-free environment is conducive to productivity. Employees can work efficiently without distractions and remain safe from pathogens and painful bites.
Commercial pest control is essential for many reasons. Call Pinnacle Solutions today for a pest-free environment that benefits everyone.
The Benefits Of Professional Bird Control For Your Eldon Business
Professional bird control services offer numerous benefits for your Eldon business:
Property protection: Birds like pigeons can cause extensive damage to your rooftop and other structures. Their droppings can corrode surfaces, block gutters, and more. Our bird control methods can protect your property by deterring these flying nuisances.
Health and safety: Bird droppings and feathers are full of harmful bacteria, fungi, and parasites that can create health risks for employees and customers.
Customer experience: Bird droppings and debris can negatively impact your business's overall appearance and cleanliness, giving an impression of poor maintenance. We can help you create a welcoming environment for returning customers.
Cost savings: Investing in professional bird control services can save you money in the long run by minimizing financial losses associated with bird infestations.
Pinnacle Solutions provides professional bird control in Eldon to protect your property and everyone on it. Call us today to get started.
The Best Way To Protect Your Eldon Property From Termites
Protecting your Eldon business from termites is crucial to prevent costly structural damage. Here are some of the best ways we recommend to safeguard your property:
Regular inspections: When you schedule regular termite inspections with the Pinnacle Solutions experts, you will have a better chance of detecting termite activity early on and starting prompt treatment if necessary. We can quickly identify signs of infestation, such as mud tubes, discarded wings, or wood damage.
Moisture control: High humidity is a magnet for termites; addressing moisture issues in and around your property, like leaking pipes, ensuring proper drainage away from the foundation, and keeping gutters clean can help keep these wood-destroying pests at bay.
Wood maintenance: Termites feed on wood cellulose. Ensure that all wooden components on your commercial property are termite resistant, and regularly inspect and repair them throughout the year.
Clear Vegetation: Trim dense foliage away from your property to remove direct access for termites that would otherwise easily reach your building.
When you partner with Pinnacle Solutions, you will learn about the signs of termite infestations and the conducive conditions that attract them. We will also show you preventive measures and effective termite treatments to protect your Eldon property from termite damage long-term.
Helpful Tips To Avert Flies In Your Eldon Business
You need to keep flies away if you want a hygienic environment for your business. To reach this goal, you need strict sanitation practices, including sanitizing, paying close attention to food preparation areas if relevant, disposing of trash adequately, and keeping restrooms clean.
We can't stress enough how vital trash management is. We recommend using sealed trash cans with lids and regularly emptying them. If you can, place outdoor trash bins away from your building.
Also, consider installing screens on doors and windows to prevent flies from entering, ensuring they are in good condition and free of tears that flying pests in Eldon could use as entry points.
And finally, educate your employees on the importance of fly prevention and proper sanitation practices. Preventive measures and a proactive approach are excellent ways to reduce the presence of flies in your business significantly. When more is needed, Pinnacle Solutions can help with strategies tailored to your situation.
Pinnacle Solutions is the go-to option for commercial pest control in Eldon. Reach out today to schedule an inspection.
Schedule Your Free Consultation
Complete the form below to schedule your no obligation inspection.