Expert Pest Management For Harrisonville, MO Businesses
There are many ways pests can create problems for businesses in Harrisonville. No matter what industry you're in, you can benefit from the experience of a commercial pest control service provider. Your commercial specialist understands how pests impact your industry and can help you protect your business in a range of ways. Let's take a look at what commercial pest control in Cass County should look like, and discuss a few specific industry examples.
Commercial Pest Control In Harrisonville, MO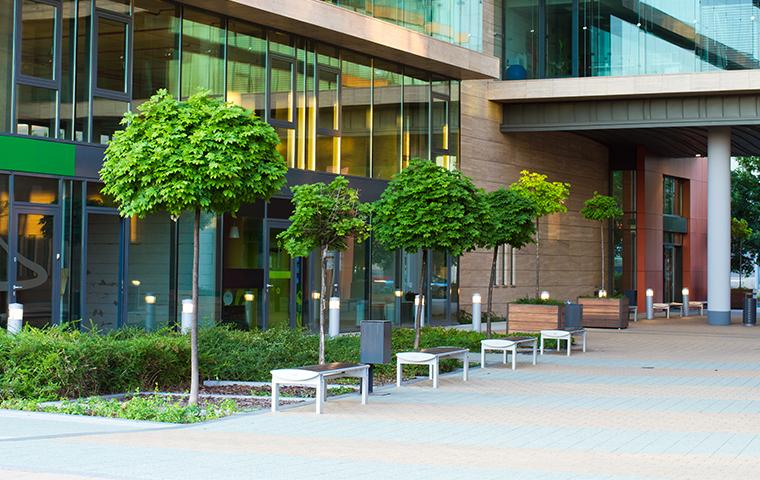 At the heart of every effective commercial pest control program is Integrated Pest Management (IPM). This scientific approach to pest control not only provides the highest standard for eco-friendly pest management, but it also complies with all government regulatory standards.
IPM is widely considered the gold standard. When your commercial specialist evaluates your business and outlines an IPM control strategy, it will favor biological control, habitat manipulation, modification of cultural practices, and the use of resistant varieties. Pesticides will only be applied where they are the only option for required control.
Here are a few more factors to consider when selecting a commercial pest control company.
A quality commercial pest control program should be properly documented. All programs, services, and findings should be available to you.

Emergency pest control service should be available 24/7.

Your commercial specialist should show up to your business when scheduled, or in a timely manner when emergency service is needed.

Your service provider should be aware of regulations that apply to your business and to your industry.

You should have a service guarantee.
If you are in Harrisonville, Pinnacle Solutions has the experience and professionalism to give you the service you need. You can easily get started by reaching out to us through our contact page.
Why Protect Rx Is The Right Solution To Pest Problems In Harrisonville Healthcare Facilities
At Pinnacle Solutions, we understand that health care providers are held to a high standard. We help you meet that standard by providing the highest level of environmentally responsible healthcare pest control. This helps you to maintain an environment that is ideal for your patients, guests, and staff.
Emergency rooms provide a unique challenge as pests can come in at any time. You need a commercial pest control plan that provides emergency pest control in this sensitive environment. This is where Protect Rx shines. We give you access to a 24-hour emergency service. You're never without protection when unexpected pest problems arise. In a healthcare facility, everything has to be documented. We keep track of our findings and all the services we perform. This information is made available to you digitally by way of the web.
Harrisonville Property Owner's Complete Guide To Effective Termite Control
Do you own commercial property? If so, termites can present a significant threat. Here are a few ways you can prevent termites from damaging your property:
Be on the lookout for termite swarmers or shed swarmer wings.

Do routine inspections and look for shelter tubes on your foundation.

Learn how to properly identify termite workers and be looking for them as you remove dead branches and other wood sources from your property.

Look for wood damage near the soil.

Train your employees to look for termite swarmers, worker termites, and warning signs of termite activity.

Address wood-to-soil contact.

Refrain from burying wood on your property.

Clean gutters out and address other conditions that can cause moisture issues.
When you roll your sleeves up and proactively work to prevent termite activity, you can prevent these sneaky insects from creating extensive damage. Keep in mind that you can also get professional termite control from Pinnacle Solutions. We provide termite inspections, termite treatments, and proactive termite control options.
Protecting Harrisonville Hospitals From Bed Bugs
Bed bugs are challenging pests. When they're found inside a hospital room, it is quite possible that they were brought in by patients or the guests of patients. This can lead to a sensitive discussion. One of the ways Pinnacle Solutions helps you guard against bed bug problems is by advising you on how to handle these discussions when they arise. The solution is to be transparent and informative.
Transparency
Let patients know that you have a plan that addresses bed bugs and that you are prepared to deal with this pest problem.
Information
Many people don't know all that much about bed bugs. You can diffuse a situation by sharing important facts, such as how bed bugs spread passively and that they don't choose where they're going to live, or that bed bugs are not known to transmit diseases. You can also let your patient know that you have a commercial pest control plan that gives you emergency service for issues such as bed bugs.
When bed bugs appear, we're sure you want them dealt with discreetly. We use field-tested methods to locate, isolate, and treat bed bugs. After treatments, we perform follow-up inspections to make sure no bugs remain in your facility.
Commercial Pest Control In Cass County
Do you need Cass County pest control? Reach out to Pinnacle Solutions and request a consultation. One of our agents or commercial specialists will be happy to guide you toward the right combination of IPM services to meet your specific needs and budget. We may also guide you toward one of our well-established service plans, such as Protect Rx or the Ready 365 Program. You may find that these standardized programs provide you with everything you need. If not, we'll customize your program to fit your specific requirements. Our goal is to provide you with a pest control solution that fits your business perfectly. Reach out to us today.
Schedule Your Free Consultation
Complete the form below to schedule your no obligation inspection.