Reliable Pest Control Services For Pittsburg, KS Businesses
Our city of Pittsburg, KS is the largest community in Crawford County, and we are still growing. We invite business entrepreneurs to add opportunities for our residents and enhance our cultural lifestyle. However, despite the abundance of opportunity, our humid subtropical climate invites unwelcome pests, and pests might be one of the worst things that can happen to a business. Pinnacle Solutions has years of experience in the industry and providing customized solutions to meet the specific needs of our commercial customers. With the most talented people on our team, you will always have a trustworthy commercial specialist on the job.
Unlike other pest control companies, we specialize in commercial pest control. We go above and beyond standard pest control to ensure our customers receive the highest possible quality of service. You'll know you are in good hands with Pinnacle Solutions. Pinnacle Solutions is ready to assist your business at a moment's notice because we know the importance of quick and efficient pest control solutions. Contact us today to get started with one of our commercial specialists.
Commercial Pest Control In Pittsburg, KS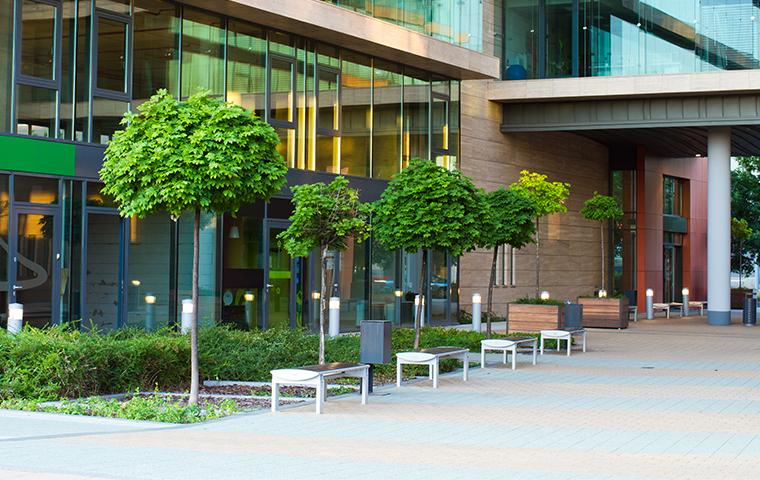 Protecting your business from pests is no small task, and you shouldn't have to do it alone. With Pinnacle Solutions, you will be assisted by one of our commercial specialists to address your unique set of needs. Using Integrated Pest Management, we will help keep your business free of pests and your reputation intact.
Pests on a commercial property put a business at risk of losing income through damaged inventory and the spreading of diseases. For many commercial properties, a monthly pest management plan is necessary to keep operations running smoothly and eliminate the worry of a possible infestation. With Pinnacle Solutions, you can expect:
General pest control plans
Drain line maintenance for fly removal
Termite and bed bug control
Bird control services
All of our commercial pest control services come with the philosophies of accuracy, availability, partnership, and advice you can trust. Our experienced commercial route specialists are highly trained and motivated to go above and beyond standard pest control expectations. To learn more about the services we offer, contact us today at Pinnacle Solutions.
The Importance Of Professional Pest Control In Pittsburg Schools
When it comes to Pittsburg schools, there is no room for insects and animals. Students need and deserve a safe and clean environment to learn. What's more, our schools provide a perfect environment for pests to thrive. The following are more reasons as to why pest management on school property is essential:
Once in, pests can spread rapidly, using the many nooks and crannies on the property to hide.
Some pests can cause damage to the property, making buildings unsafe and ruining resources.
Children are susceptible to picking up pests such as bed bugs and lice. They are also more vulnerable to bites and stings than adults.
Pests can contaminate food and spread diseases, putting everyone on the property at risk.
Infestations can potentially close the school, making students miss essential classroom time.
If pests infest a school property, there is a likely chance that students and faculty can bring them home, causing a large-scale problem in the area. To keep everyone safe, contact us at Pinnacle Solutions, where we specialize in treating commercial properties. Call us today to get started with a pest control program.
How To Keep Pest Birds Away From Commercial Properties In Pittsburg
Birds might be interesting to watch out for in nature, but when they are on your commercial property, they can cause many problems. These problems include spreading bacteria and diseases, causing structural damage, causing serious contamination problems, increasing maintenance and cleaning costs, and negatively affecting your business's reputation.
For commercial properties, bird prevention is essential to keeping a clean, healthy, and safe environment. You can do this by working with one of our Pinnacle Solutions commercial specialists. This way, you don't have to worry about birds or keeping up with the maintenance yourself. In addition, our pest control process includes:
A thorough inspection of your property to determine what type of bird is causing problems and how extensive those problems are.
Treatment is determined after inspection but may include bird spikes, netting, or utilizing one of Bird-B-Gone's humane bird deterrents.
Once the treatment plan has been put into place, we'll follow up to ensure everything is working accordingly
To learn more about keeping birds off your commercial property, contact us at Pinnacle Solutions. We specialize in treating commercial properties, so you know you will be in good hands with our commercial specialists. Contact us today to get started.
Bed Bug Control: What Pittsburg Businesses Need To Know
Bed bugs don't just infest beds, which means they can invade a commercial property too. Bed bugs usually spread to homes after being picked up in a public place like a restaurant, hotel, or school. As a Pittsburg business owner, you should know about these pests and how they can affect your operations.
Bed bugs are parasites that need a host to survive. By biting people and animals, bed bugs can take blood meals, which is their primary food source.
They typically feed at night when their host is sleeping, which is one reason they can go unseen for some time. However, they can feed during the day in public places where people aren't accessible at night.
They are small and can hide in tight cracks and crevices in furniture and appliances.
Although they aren't known to transmit diseases, they can cause allergic reactions and lead to secondary infections.
Bed bugs can infest a business by hitchhiking on employees and customers, in packages, and on personal items.
They can easily damage a business's reputation.
When it comes to getting rid of bed bugs on a commercial property doing it yourself is simply not an option. Bed bugs can easily overwhelm a property, making it difficult to get rid of all of them unless you have experience doing so.
You can trust the commercial specialists at Pinnacle Solutions to solve your property's bed bug problems discreetly using advanced technology and eco-friendly products for effective results. But, the longer you wait to take care of a bed bug infestation, the worse it will get and the more difficult it will be to get rid of. So, contact us today to take care of those pesky parasites.
Schedule Your Free Consultation
Complete the form below to schedule your no obligation inspection.