Pest Control In Richmond, MO
The population of Richmond, MO, has a historic shopping district, 60 acres of parks to explore, and a high quality of life. However, pesky insects, birds, and other undesirable pests can interfere with daily life. Maintaining a modicum of order and decency requires using pest control in Richmond to exclude nuisance pests.
Pinnacle Solutions understands how important it is to keep properties in Richmond pest-free, safe, and clean. When wildlife like rodents or insects manage to get inside a food service facility, hotel, or hospital, it is a real hassle.
Many businesses require the highest level of sanitation to protect employees, consumers, and daily operations. A pest infestation or a single incident can risk a shutdown, damage a company's reputation, and lead to lost revenue.
Pinnacle Solutions is always ready to step in to remedy a pest problem. We rely on effective pest control solutions and integrated pest management to eliminate pests, prevent future issues, and ensure optimal results.
Call Pinnacle Solutions to schedule an appointment to inspect your property and learn about customizable solutions to exclude and prevent pests.
Commercial Pest Control In Richmond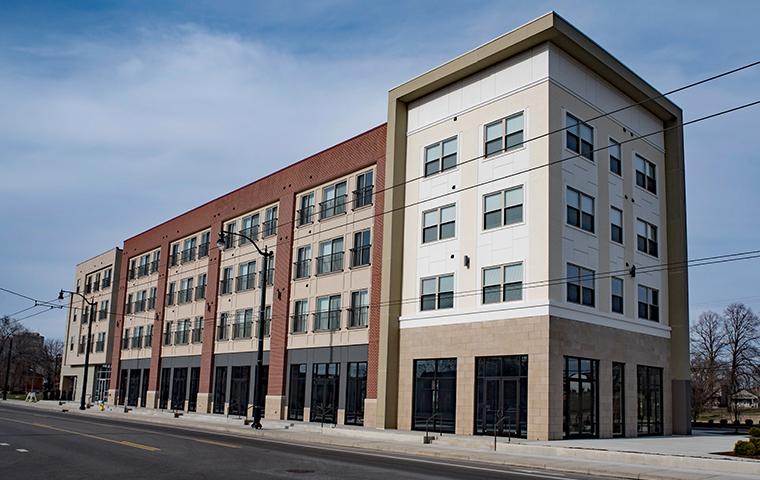 Your business is an investment in the local community, creating jobs and stimulating the economy of Richmond. It is essential to protect commercial properties from invading pests because of the potential damages and health hazards that may result from infestations. The best solution is to have Pinnacle Solutions provide year-round commercial pest control in Richmond to eliminate errant birds, rodents, or insects on your property.
Why are commercial pest control services a necessary service?
Companies and businesses have a lot to lose when there is a pest sighting or infestation. Schools, hospitals, and warehouses have specific requirements to ensure everyone is safe and healthy inside the building.
Keep the following in mind:
Cockroaches, termites, or ants invading a hotel or restaurant may spread pathogens that make people sick and tarnish a company's reputation and ability to operate safely.
Pests may leave behind droppings, contaminate water, food, and indoor air, or create nests that they will defend aggressively.
Mice and rats must constantly chew to keep their teeth from over-growing and may damage equipment and supplies in the process.
It's not worth waiting for an incident involving pests and wildlife on a commercial property before seeking help. You can ensure peace of mind that a commercial building is adequately protected with monthly, bi-monthly, or quarterly pest control services year-round.
Pinnacle Solutions will respond to emergency pest control needs within two hours. Plus, we are available 24/7 to answer your concerns about pests on your property.
Commercial Route Specialists from Pinnacle Solutions will conduct a thorough property inspection before advising clients on the steps to take against pests. To ensure successful exclusion, clients can expect annual audits and detailed documentation of all applied pest control solutions. We note any risk factors that may affect your business due to pests and ensure accurate billing for rendered services.
Schedule a visit from the dependable, knowledgeable Commercial Route Specialists from Pinnacle Solutions today to protect your property from pest invaders.
What To Do About Pest Birds Around Your Richmond Property
Birds are a pretty sight to behold when flying high above or singing in the wild. However, when birds become a pest, that changes everything for a commercial property in Richmond.
Pinnacle Solutions realizes that certain birds in the area may become more of a nuisance than a delight on your property. When pesky birds nest on your property, you may have to clean your building more often or deal with increased contamination and health problems related to bird droppings.
Depending on the severity of pest birds on your property, Pinnacle Solutions may recommend using spikes or a more humane system to control a bird problem. We understand the need to monitor pest birds and find ways to prevent them from ruining your business's reputation or suffering a lawsuit.
Don't fret over nuisance pest birds on your property. Contact Pinnacle Solutions to deliver an effective bird control solution in Richmond.
What Not To Do If You Spot Signs Of Termites Around Your Richmond Property
It's easy to dismiss a few insects on your property, especially if you don't realize the extent of damage or harm they can cause. Termite sightings around your property in Richmond are not a small matter you can ignore. If a termite infestation continues, these insects can cause structural damage as well as cosmetic problems.
Pinnacle Solutions realizes how quickly and easily termite colonies can destroy a property from the inside out. At the first sign of termites on your property, it's time to call Pinnacle Solutions for an inspection and termite control. If you discover termites on your property, avoid doing the following:
Don't ignore the problem and think termites will go away without a pest control treatment once the termite season passes.
Don't think putting termite-infested furniture or items in the sun or using UV rays to naturally eliminate termites will be a 100% guaranteed solution. Termites may remain on your property to create a new colony.
Don't rely on boric acid or ammonia to eliminate termites. There are areas you may miss or that won't reach the insects and the infestation will continue to grow.
Don't use conventional sprays that claim to treat a range of different flying or crawling insects. Not only will the effectiveness of this solution be pretty low or last a short time, but it may also expose customers and employees to harmful chemicals.
Contact Pinnacle Solutions to monitor your property and have our Commercial Route Specialists apply safe termite control treatments in Richmond that work. Don't wait until it's too late, as termite pests cost businesses without adequate pest control services each year due to damages.
Four Simple Tricks To Keep House Flies Out Of Your Richmond Property
Another pest problem that concerned property owners should care about is house flies. These insects spread pathogens that can cause sickness, and they don't just fly into homes.
Try the following tips to keep flies out of your commercial property:
Maintain a few plants on the grounds of your facility or business that repel flies. Grow lemongrass, peppermint, eucalyptus, or basil nearby ornamental shrubs and trees.
Keep windows closed or covered with screens. Seal or cover sizeable cracks or gaps around your property so flies cannot enter.
Remove standing water, repair leaks, and improve the drainage on your property.
Remove garbage daily and store it in a container with an airtight lid, far away from your facility or business.
Besides utilizing our helpful tricks to keep flies away from your business, it's critical to call in the professionals at Pinnacle Solutions to eliminate insect infestations. Pinnacle Solutions can apply a customized pest control plan to exclude flies on your property.
Contact Pinnacle Solutions to inspect and treat your business or facility for pesky flies and ensure your property is clean, healthy, and pest-free.
Schedule Your Free Consultation
Complete the form below to schedule your no obligation inspection.