Trusted Pest Control Solutions In Salina, Kansas
Salina, Kansas is the county seat of Saline County. Located in the world's largest area of wheat production, Salina businesses are no strangers to the destruction pests can bring. Pests can attack crops, land, soil, and that's just the outside. Pests love to get inside businesses for food, water, and shelter. Once they're inside, they're very hard to get rid of.

That's why Pinnacle Solutions is here. We offer comprehensive commercial pest control services across Kansas and Missouri to protect businesses, large and small, from the potential destruction of pest infestation. We are a QualityPro® Certified company and proud members of the National Pest Management Association (NPMA). Call us today for the best in pest control and protect your Salina business from infestation.
Commercial Pest Control In Salina, KS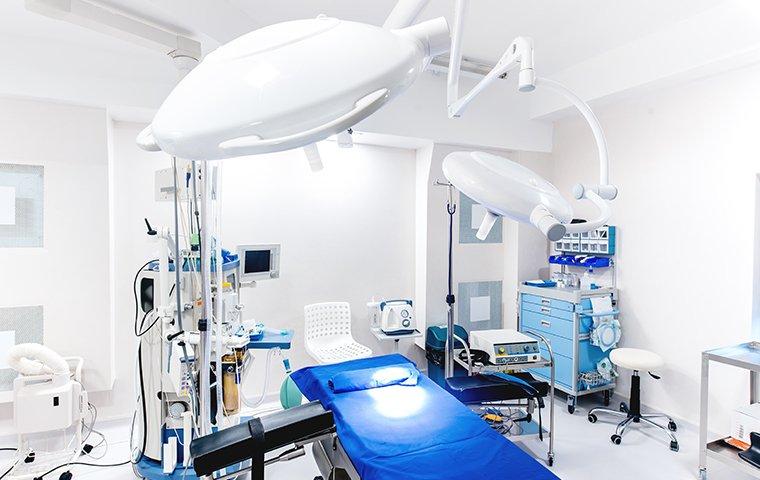 No matter what type of business or commercial facility you run, it's absolutely crucial to have a pest control plan in place. Pinnacle Solutions offers quarterly or yearly monitoring visits to maintain a totally pest-free property.

We use Integrated Pest Management (IPM) methods to treat businesses in a safe way that reduces chemical use as much as possible. Our commercial pest control services treat a wide range of facilities, including:
Hospitals & Healthcare Facilities

Warehouses

Hotels & Hospitality

Manufacturing

Schools & Educational Facilities

Retail

Retirement communities

Organic & Food-Processing Facilities
Our commercial pest control services are thorough to make sure every inch of your property is free from infestation. We cover a variety of common Kansas pests such as rodents, crickets, spiders, flies, beetles, roaches, Indian meal moths, and many others. Our services are tailor-made to fit your needs, whatever they are. Some of our services are:
Drain line maintenance for fly control

Termite control

Bird control

Bed bug treatment
Guide To Protecting Health Care Facilities In Salina, KS From Pests
From hospitals and doctors' offices to long term care and physical/mental rehabilitation centers, our commercial pest control services provide healthcare facilities with the pest control they need to function properly.

Healthcare facilities, understandably, need to maintain a very high level of sanitation. When pests get inside and infest the building, you put everyone at risk. Pests contaminate surfaces, equipment, and supplies, exposing patients and their loved ones to a variety of diseases. It's important to have a protocol set in place when it comes to controlling a pest infestation. To reduce your chances of infestation, implement the following strategies:
Seal off entry points, including utility openings.

Keep doors closed as much as possible.

Make sure you have proper sealing and screens for windows.

Maintain well-trimmed landscaping.

Make sure you have a functional plumbing system.

Repair leaks in faucets, drains, and pipes.

Caulk gaps and cracks in the exterior of your building.

Monitor food delivery.

Keep food stored in sealed containers.

Regularly wash and dry linen on high heat.
Does My Salina, KS Business Need Bird Control?
Birds may be cute in cartoons, but they pose a lot of threats if they get into your commercial facility. Birds are drawn to buildings for food and shelter, and once they get inside, they can be extremely difficult to get rid of. But what harm do they pose? Consider the following consequences when it comes to a bird infestation:
Birds threaten the design and structural elements of the building.

Damage from birds can get very costly to repair.

They leave droppings and nesting materials around the building that can not only contaminate food and water but can also cause accidents and pose a safety threat.

Birds carry disease-causing bacteria that pose health risks to everyone in the building.

They attract other pests and bring others inside with them like ticks and fleas, exposing you to even more infestation.
Reasons You Need To Protect Your Salina, KS Business From Termite Damage
Termites cause large-scale property damage that can cost you thousands of dollars in repairs. The scope of their potential damage is astonishing, considering their tiny size. Here are a few of their destructive capabilities:
Feed on wood, plaster, metal, causing structural damage

Damage business property

Destroy insulation and filter systems

Negatively impact vegetation

Eat support beams, floorboards, posts, ceiling joists, wall studs, etc.

Grow colonies that spread around the building
These are just a few ways that termites can destroy your business. The real problem is that most insurance policies will not cover termite damage. That's why repairs can be so costly. It's estimated that U.S. home and business owners spend around $5 billion annually for termite repairs.

The best way to deal with a termite infestation is to call on the experts. Pinnacle Solutions has the experience to not only treat your facility for termites but to maintain a termite-free environment all year long. Be proactive and call us today. Ask about our preventative services to protect your business from the horror of termites.
Schedule Your Free Consultation
Complete the form below to schedule your no obligation inspection.