Professional Termite Protection From Pinnacle Solutions!
Termites not only cause millions of dollars of structural damages to households here in the United States, but can also attack your commercial property. While many commercial properties have concrete foundations, termites can still find their way inside to infest structural supports made of wood. Structural elements like floor joists and window frames can be vulnerable to termites as well as interior wood since termites can pass through plaster, siding and foundational cracks in search of wood. These destructive pests work around the clock causing billions of dollars of damages to properties each year. Protect your property and bottom line by choosing Pinnacle's Termite Protection Program!
Our Termite Control Process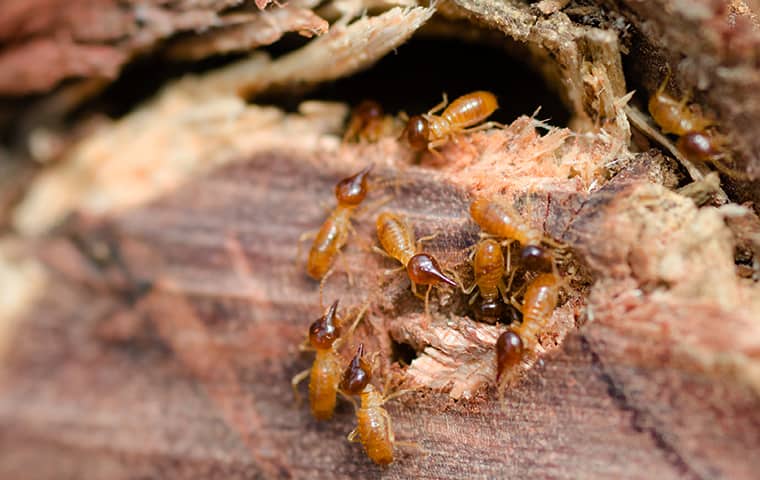 At Pinnacle, our termite inspections consist of one of our commercial specialists inspecting your facility, searching for the following signs of termite activity:
Discarded wings near closed windows, doors, or other access points.

Mud tubes (about the width of a pencil) in areas where the ground meets the building and along walls, ceilings, rafters, and shelving.

Wood damage underneath floors, behind walls, or inside structural beams.
After a thorough inspection of your commercial property has been completed, our commercial specialist will then customize a treatment plan based on the level of termite activity detected and the structure of your facility. Though our treatments vary depending on the specific situation, we typically utilize either baiting systems and liquid spot treatment in our termite control services.
If you have a baiting system installed on your property, we'll return to check the bait stations on a quarterly basis and re-bait, if necessary. Lastly, the yearly warranty offered on our termite control services is renewable each year!
Additional Information About Termites
What are termites?
Termites are a species of insect that live together in large social colonies and divide themselves into three different casts: workers, soldiers, and reproductive. These wood-destroying pests build their colonies underneath the ground or inside the buildings that they invade. Termites tunnel through wood (preferring wood that has been previously softened or damaged by water) and feed on it and other cellulose materials that they come across. Termites can be found in every U.S. state except Alaska, though some regions are more susceptible to infestations than others, so it is important to stay alert to a potential issue no matter where you are located!
What do termites look like?
The worker termites are the most numerous members and make up the majority of the colony. These workers have soft bodies and are creamy white in color; they are wingless, blind, and grow to about 1⁄4 of an inch in length. The soldiers look similar to the workers but have strong jaws and elongated yellow heads. Lastly, the reproductives are the largest of the three, growing to about 1/4 to 1/2 of an inch long, are dark brown or black in color, and are the only winged members of the colony.
How do I prevent termites?
Some preventative measures you can take to protect your property from termites include:
Maintain a 12-inch vertical barrier of smooth concrete, sand, or other non-cellulose material between the soil surface and substructure wood crawlspaces.

Identify and correct any conditions that are conducive to termite infestations.

Use synthetic wood and non-cellulose building materials for fences, decks, or other structures that come into contact with soil.

Remove wood piles, untreated fence posts, tree stumps and buried scrap wood near structures.

Keep wood pallets off the ground to prevent wood-to-soil contact on your property.

Keep storage and crawlspace areas well ventilated and dry to eliminate excess moisture that may attract termites.

Repair foundation cracks and seal openings on exterior walls and soffits to deny termites' easy access.

Keep gutters and downspouts clear of debris to avoid moisture build-up.

Keep landscape shrubs trimmed and trimmed away from the exterior walls of your structure.
If you see signs of termites or termite damage on your commercial property, give us a call at Pinnacle Solutions today for your free consultation. Our specialists will inspect your facility to determine if you're dealing with a current termite control infestation in your business then review our findings and customize a termite control solution for your facility!
Schedule Your Free Consultation
Complete the form below to schedule your no obligation inspection.