Quality Pest Management For Arkansas City, KS Businesses
Founded in 1870, Arkansas City, KS is located just 60 miles from Wichita. Our city's historically significant, as it was the location of the Cherokee Strip Land Rush in 1893. We're situated in south-central Kansas, where the Arkansas and Walnut rivers meet. Living by the water means there's humidity in the air, and the presence of humidity leads to the presence of pests.
If you own a business here in Arkansas City, it's a good idea to address your pest control needs. As local experts in commercial pest control, the team at Pinnacle Solutions is here to bring you the pest protection you're looking for. Our team of licensed commercial specialists is highly trained in the comprehensive identification, extermination, and prevention of pest activity in commercial facilities.
As the local area's go-to source for dependable commercial pest control solutions, we place a great deal of importance on the continuous improvement of our pest control methods and practices. Whatever type of pest problem you're dealing with, we're here to help. Reach out today for Cowley County pest control you can trust.
Commercial Pest Control In Arkansas City, KS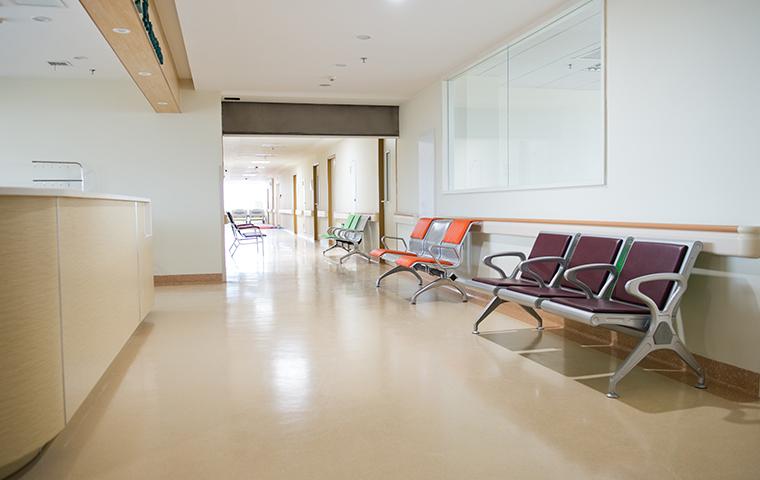 Your Arkansas City business is vulnerable to pest infestation, and the problem with that is that it can cause widespread contamination and property damage to your facility. That's why professional protection is so important. Here at Pinnacle Solutions, we provide trusted commercial pest control services to a variety of businesses, including hospitals, retirement communities, warehouses, hotels, grocery stores, schools, and many others.
In order to protect your business and the people inside of it, professional pest protection is your best bet. Not only can an infestation endanger your facility, your employees, and your customers, but it can also put your reputation at risk. There's no faster way to take down a business's good name than a pest outbreak. It tells customers your property isn't sanitary, safe, or protected. Guarding your reputation is crucial to your success, and that's why you can't afford to neglect your commercial pest control needs.
Here at Pinnacle Solutions, we're proud to offer commercial treatments you can depend on. When you go with Pinnacle Solutions, you're in good hands. We use IPM (Integrated Pest Management) solutions to bring you the pest-free results you deserve. After an in-depth inspection of the facility, we design a treatment plan for you. Our team offers a 365 program for audited facilities, and all of our treatments adhere to the standards of the NOP (National Organic Program).
Our team is highly trained to bring the community quality pest solutions that last. From large-scale infestations to small-scale pest pressures, there's no job we can't take on. We're a QualityPro® Certified company, proud members of the National Pest Management Association (NPMA), and our commitment to quality never waivers. Call us today to hear more about our monthly service plans and how they can help protect your business from harm. We've got your back.
The Best Way To Protect Your Arkansas City Healthcare Facility From Dangerous Pests
Pest infestation is a nightmare no matter where it occurs, but when it comes to a healthcare facility, the occurrence of pest infestation is extra upsetting. When practicing healthcare, there's an unspoken agreement that the property is safe, and people put a lot of trust in your ability to maintain a secure environment. Commercial pest infestation endangers not only your facility and overall reputation but the well-being of your patients.
Doctor's offices, hospitals, nursing homes, and other medical buildings all contain vulnerable surfaces and important tools that can't afford to be exposed to contamination. Contaminated medical tools, bacteria-ridden surfaces, and damaged machinery all lead to serious consequences for your patients. Medical equipment needs to be pristinely maintained and constantly disinfected to prevent bacteria from spreading.
Healthcare facilities, in particular, need to maintain a very high level of sanitation, and when it comes to controlling a pest infestation, it's essential to be prepared. The best way to protect your Arkansas City healthcare facility from dangerous pests is to reduce your chances of infestation altogether. Here are some tips to get you started:
Seal off entry points, including utility openings

Keep doors closed at all times

Proper sealing and screen for windows

Well-trimmed landscaping

Functional plumbing system

Repair leaks in faucets, drains, and pipes

Caulking of exterior perimeter

Monitored food delivery protocol

Well-stored food in sealed containers

Regular washing and drying of linen on high heat
At the end of the day, the safest way to control pests in a healthcare facility is to rely on pest professionals. Pinnacle Solutions specializes in commercial pest control and prevention. We've worked with a broad range of healthcare facilities, and we're here to help you. Contact us to learn more about our commercial pest solutions.
Schedule Your Free Consultation
Complete the form below to schedule your no obligation inspection.