What are rodents?
Rodents make up the largest group of mammals, and are identified by their continuously growing front incisors. Rodents are pests that take advantage of any food, water, and shelter sources they come across, and are major pests in commercial facilities. Two of the most common rodents that invade commercial facilities in Kansas and Missouri include house mice and roof rats.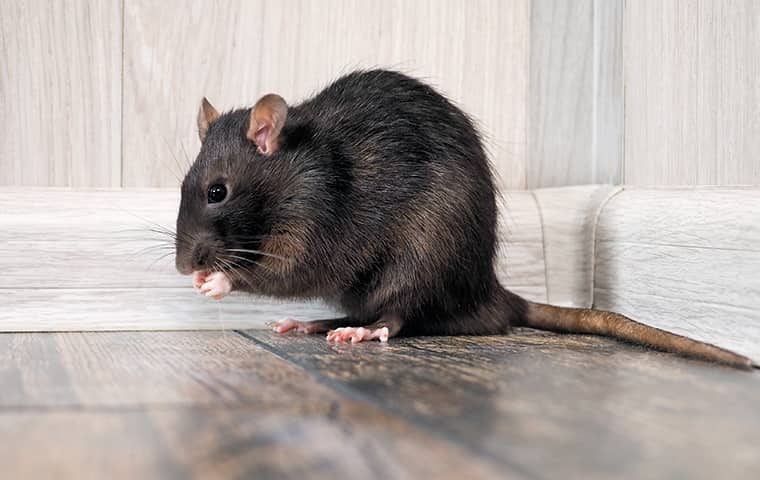 House mice
House mice have small, slender bodies that grow to between 2 ½ and 3 ¾ of an inch in length, with their tails adding another 3 to 4 inches to their total length. Their tail and large ears are covered in a light layer of soft, velvety fur. The color of their fur can vary between grayish-brown, dark gray, or black in color, and their underbellies are lighter in color than their bodies.
Roof rats
Roof rats are dark brown or black in color, and they have gray highlights running throughout their fur. Roof rats have pointed noses, large dark-colored eyes, and large ears. Adults have long, slim bodies that grow to about 8 inches in length. Their tails add another 6 to 8 inches onto their total body length. Roof rats have a light build which allows them to easily climb trees, utility poles, and other structures to gain access to commercial properties through their roofs.
Are rodents dangerous?
Rodents are a danger to both people and property. They can cause structural damage to commercial and other buildings by chewing through electrical wires, equipment, lumber, insulation, drywall, duct work, and flooring. Rodents carry and spread many serious diseases, including Lymphocytic choriomeningitis (LCM), salmonellosis, dysentery, Hantavirus, and leptospirosis, which can easily be spread to customers and employees. Their shed fur, saliva, and excrement can trigger allergic reactions and asthma attacks in some people. In addition, they contaminate food sources with their urine, excrement, and saliva. The presence of rodents in your commercial building or other facility also has the potential to significantly damage your reputation, and cause a loss of customers, revenue, and employees.
Why Do I Have A Rodent Problem?
You have a rodent problem on your property or inside your commercial facility because it is providing easy access to food, water, and shelter. Open containers of garbage, outdoor eating areas, clogged gutters, wood piles, garden areas, dense vegetation, and piles of debris are all attractive to rodents. Rodents are a year-round problem for business owners, and a proactive approach needs to be taken to keep them out of buildings throughout the entire year.
Where will I find rodents?
Outside
Outside, rodents nest in a variety of places, such as inside tree stumps and flower planters, in trees or piles of wood, in abandoned nests of other small animals, along the edge of rivers or ponds, between rocks, and in dense vegetation. They also burrow under piles of debris and foundations.

Inside
Inside commercial properties, rodents nest in secluded, out-of-the-way places, like behind walls, in basements, in crawl spaces, behind large appliances, and under sinks. Rodents typically find their way inside through spaces in exterior walls and a building's foundation, through chimneys, and through holes found along the roofline or at roof intersections.
How do I get rid of rodents?
The best way to prevent and eliminate rodent problems from your Kansas business is to partner with a pest control professional. At Pinnacle Solutions, we specialize in providing customer-focused, commercial pest control services to protect a wide variety of facilities and industries from rodents. To learn more about the rodent control services we offer, contact us!

Our team of experienced professionals utilizes advanced technology and eco-friendly products to accurately identify the rodent species you're dealing with, and provide consistent treatment to solve your property's rodent problem for good. Learn more about our rodent control services and how they can help protect your Kansas City-area commercial property from rodent invasions and the problems they cause. Reach out to us at Pinnacle Solutions for more information!
How can I prevent rodents in the future?
Preventing problems with rodents can be a difficult task. There are several things you can do in and around your commercial facility to keep rodents from damaging your business and its reputation:
Dumpsters should have locking lids on them.

Keep delivery doors closed when not in use.

Trim trees, branches, bushes, and shrubs away from the exterior of your building.

Maintain outdoor eating areas.

Keep kitchen areas neat and tidy. Store food in the refrigerator or in containers with air-tight lids.

Make sure that any damage to your building's roof or roofline is repaired.

Seal cracks and crevices in your building's foundation and exterior walls.

Repair leaky outdoor pipes, fixtures, or clogged gutters.
Schedule Your Free Consultation
Complete the form below to schedule your no obligation inspection.